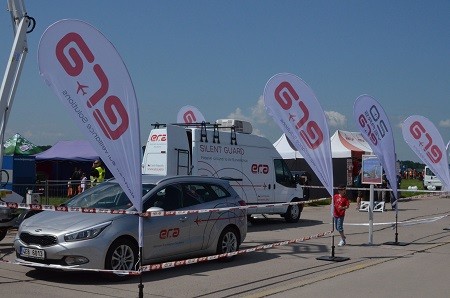 ERA participated in Aviation Fair at Pardubice Airport
Pardubice, June 1st, 2014 ERA has become a partner of Aviation Fair, a traditional air show based at Pardubice airport. Along with marketing activities, which was designed to emphasise the presence of this internationally successful firm located in the East Bohemian region, the company exhibited its latest technological achievement. Silent Guard, the demonstrator of passive surveillance systems PET and PCL, was accessible for two days to air show visitors. They were able to see a live demonstration of the system's ability to detect flying aircrafts.
The primary objective of the Aviation Fair was to repeat this historic flight 80 years later in honour of Mr. Kaspar. The first Aviation Fair took place on 11th May 1991. At the beginning, there were only a few enthusiasts interested in expressing their respect for this pioneer flyer. Currently, the Aviation Fair provides a comparative programme for the greatest European air shows.
The Aviation Fair acquired its popularity due to displays specially focused on domestic aviation, scanning its one hundred years of existence. Visitors have the opportunity to view a complete range of aeroplanes built in the Czech Republic or flown by Czech pilots worldwide, including types currently used by the Czech Air Force. Both static and air displays of recreational and military aeroplanes from other European countries are available for viewing by the audience each year. The warbirds are regularly among the finest presented at the Aviation Fair.
There are sightseeing flights and aero show rooms which present both home-made as well as professionally designed aircrafts. There is also an auto-salon where most of the latest vehicles are displayed. The existing Military Car Meet exposition, in contrast, presents IIWW combat vehicles and items which serve to create a historical atmosphere with uniforms and equipment. They take part in the spectacular concept of the flight programme, staging an attack of striking fighters and bombers with simulated explosions and sound effects.