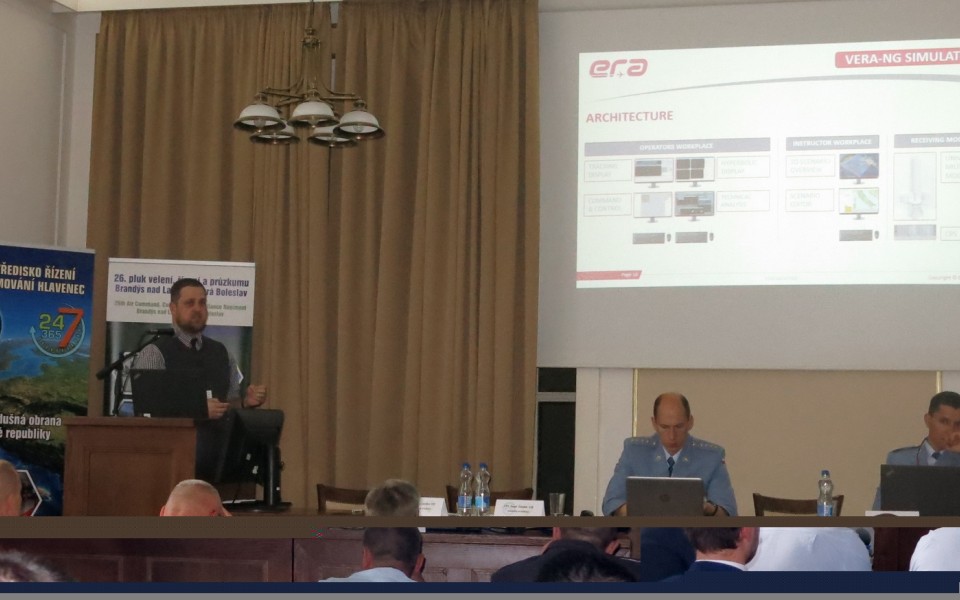 ERA - partner of the traditional conference focused on Air Defence PVO 2018
ERA and her parent company OMNIPOL took part of the PVO 2018 annual conference in Brno in April 25 – 26. The 19th year of the traditional event was organised by the Department of Air Defence Systems at the club of the Faculty of Military Technology of the University of Defence in Brno. This year the highlight topic was Air Defence Training and Exercise for Future Combat.
ERA participated as one of the partners along with other prominent producers of defence and security technologies such as URC, Ales and Retia. ERA training expert Jiří Mrenka from the Schooling Department delivered the lecture "VERA-NG Training Simulator: Tool to train operators of PET using various scenarios of airspace situation" along with the live presentation of the system. ERA consultant general Bohuslav Dvořák from OMNIPOL was also present to support the task.
On VERA simulator
VERA-NG Training Simulator is a modern training tool for the Passive ESM Tracker. This military reconnaissance tool provides training of passive emitter tracking systems and electronic warfare. The simulator system consists of the VERA-NG console as a workplace for operators (trainees), a simulator console as a workplace for instructors (trainers), a central processing station and receiving universal military module.
The training simulator significantly decreases the time needed for new users to obtain needed experience without affecting the performance of the operational system. The training can be carried out using data from prepared scenarios or data from one receiving station. Off-line data from another VERA-NG system can also be replayed. ERA can deliver various scenarios reflecting the following themes or ERA experts can create any scenario on demand to create situations which might be extremely rare or almost impossible to find in the real environment
On the conference organizer
The Department of AD Systems makes up one of the research/pedagogic work centres of the Faculty of Military Technology. It is tasked with preparing university-graduate specialists of Air Defence Troops for the combat utilization of weapon systems and Air Defence units, using automated command and control systems.