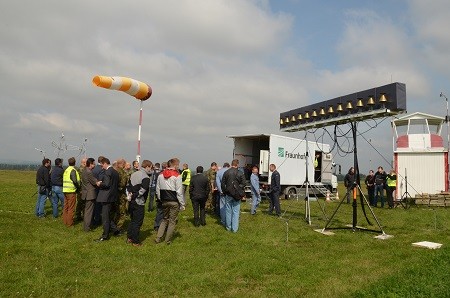 Detour 2014 - ERA introduced its PCL system within NATO exercise
Hradec Králové, September 1st - 5th, 2014 In the beginning of September the ERA Company hosted the scientific event Detour 2014 - reunion of members of the NATO-SET-195 panel DMPAR (Deployable Multi-band Passive Active Radar). ERA took part in the DMPAR Evaluation Trials for Operationally Upgraded Radar (Detour) held at three East Bohemian airports – in Hradec Kralove, Jaromer and Chotec. The goal of the joined exercise of researchers from several NATO-countries (Czech Republic, Poland, Norway, Germany, Italy and France) was a verification of possibilities of deployable multi-band passive/active radars for air defence. They tracked the flying targets on defined in advance trajectories and analyse the possibilities of the co-existence of primary radars with passive radiolocation and passive radar systems and the potentials for complementary performance upgrade.
The participants, who fielded systems:
ERA a.s. (Czech Republic) - demonstrator FM PCL Silent Guard (Hradec Kralove)
FFI (Norway) - demonstrator DVB-T PCL (Hradec Kralove)
BOMAR (Poland) - V-SHORAD MSR 254 (S a C band), (Hradec Kralove)
FHR (Germany) - demonstrator DVB-T PCL (Jaromer)
WUT (Poland) - demonstrator FM PCL (Jaromer)
WUT (Poland) - demonstrator FM a DVB-T PCL (Chotec)
Future deployable air surveillance and air defence may no longer use a variety of different radar systems, optimised for specific tasks, but rather employ multifunction radars, which are able to meet the requirements of multiple military scenarios and challenges. Such deployable radar sensors should utilise all technical and technological capabilities, which can be envisaged to be available in the time frame considered of 15 to 20 years from now.
Passive radar concepts, which allow the use of a large variety of remote transmitters (referred to as donors), and active multi-band radars, designed to exploit the best properties of different bands for different tasks, share a lot of common technical and system features. Furthermore they bear the potential to be mutually complementary concerning their surveillance capabilities such as low level coverage, anti-stealth, high update rate, foliage penetration, long detection range, high resolution and NCTI capability. The concept of a 'deployable multi-band passive/active radar', DMPAR, is considered to be the logical concept for such an integrated multi-role radar sensor of the future.
On ERA demonstrator Silent Guard
Similarly to primary radars, the ERA PCL system Silent Guard utilises signals scattered by targets. Unlike them, however, the system remains fully passive as the so-called transmitter of opportunity concept is used for target illumination. The transmitter of opportunity is typically intended for analogue or digital radio or television broadcasting and is operated by a third party (usually a telecommunication authority). The PCL system is based on bistatic radar, since the receiver and transmitter are spatially separated. The bistatic configuration is particularly suitable for detection of targets with low monostatic RCS and the property of non-electromagnetic emissions which makes them otherwise undetectable. The PCL system demonstrator has been developed in ERA as an FM based multistatic radar. It utilises up to eight element circular array antennas and commercial FM radio transmitters as illuminators of opportunity in order to detect and track airborne targets.