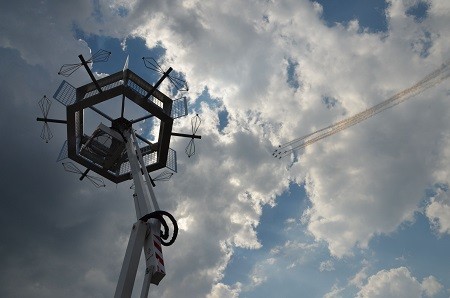 ERA Company has become part of the UK R&D team developing next-gen surveillance technologies
Pardubice, March 4th, 2014 ERA Company is proud to announce that it has been successful with a tender for the Emerging Technologies System Evaluation project released by United Kingdom Civil Aviation Authority (UK CAA). The company has been chosen as part of the R&D activities for the S-Band Spectrum Release Programme supported by the UK Government.
The UK Government aspires to release 500 MHz of the public sector spectrum below 5 GHz prior to 2020 in order to meet the demand from commercial services, such as mobile communications, including broadband. The 2.7-2.9 GHz frequency sub-band (i.e. part of the S-Band), recognised by consultancy pre-research as a potential option for spectrum release, is currently occupied by Primary Surveillance Radars (PSR) used to support aviation, maritime and military security tasks. The authorities consequently are investigating whether a number of the existing UK S-band PSR population could be replaced by emerging independent non-cooperative surveillance technologies.
ERA, which has been recently developing an alternative to primary surveillance radar based on the Passive Coherent Location principle, took part in the tender and has been selected for further cooperation with UK CAA. The new technology should not only enable spectrum release but also bring wider benefits to British aviation stakeholders. ERA strongly believes that its technology will enable the UK CAA to contribute towards the above-described UK Government plan.
The passive surveillance technology will need to be further developed, however, and consequently industrialised in order to provide a suitable product for the market in time to meet the Government's time-scales for spectrum release. The S-Band Spectrum Release Programme brings together and supports suitable candidates (research centres and manufacturers such as ERA) in order to produce, in a risk-managed way, a demonstration project for a pre-operational system.
ERA has proven abilities in this field having deployed multilateration surveillance systems and ADS-B vehicle tracking units at a number of British airports. They demonstrated their functionality as a useful part of the Advanced Surface Movement Guidance and Control System. One Wide Area Multilateration system by ERA was recently even certified by UK CAA as a full-fledged replacement for the traditional Secondary Surveillance Radar.
On the UK CAA
The Civil Aviation Authority is the UK's specialist aviation regulator. CAA is the statutory corporation which oversees and regulates all aspects of civil aviation in the United Kingdom.