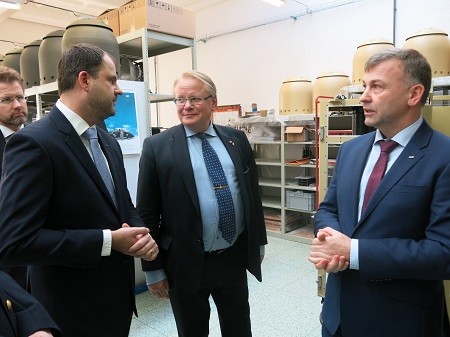 Peter Hultqvist, the Swedish Minister of Defence, visited the ERA premises
Pardubice, February 10th, 2015 An official delegation from the Kingdom of Sweden visited the ERA headquarters in Pardubice last week. Members of the Sweden Armed Forces led by the Minister of Defence Peter Hultqvist visited the Czech Republic to seek out possibilities for future cooperation with Czech politicians, soldiers and exporters. After the events organized by the Ministry of Defence in Prague including a meeting between Peter Hultqvist and his counterpart, the Czech Minister of Defence Martin Stropnický, they flew to the Pardubice airport to pay a short visit to ERA Company.
"It is very interesting to be able to visit local defence industries with high-tech solutions in conjunction with my meeting with my counterpart," stated Peter Hultqvist.
In Pardubice the minister´s entourage was welcomed by the ERA Managing Director Viktor Sotona and the Sales Director Ondřej Chlost. The programme began with a short introduction to ERA Company and those of its products suitable for defence purposes. Mention was made of ERA's latest achievements such as the NATO contract and recent "Unified Vision" military exercise in Norway. It also consisted of a live demo of ERA systems such as PET VERA (Passive ESM Tracker) and MSPSR (Multistatic Primary Surveillance Radar) and a guided tour of the ERA premises. The Sweden military experts displayed a serious interest in the capabilities of VERA-NG. They were particularly interested in its unique ELINT library capable of identifying targets and its low energy consumption performance under harsh climate circumstances.
As part of the guided "sightseeing" tour around the facilities, the guests observed the actual process of assembling VERA -NG antennas before shipping them to ERA most recent customers and the systems placed either on tripods or using a 25-metre-high mobile mast. The crew of the Silent Guard demonstrator provided a presentation and live demonstration of the MSPSR passive – the latest alternative technology to primary radar developed by the ERA R& D department. This next-gen system uses commercial broadcast transmitters such as FM and DVB-T (Digital Video Broadcast – Terrestrial) which unwittingly provide the electromagnetic energy necessary to detect targets and can be deployed as a new progressive part of air defence forces or for civil use against so-called asymmetric threats.
Peter Hultqvist, currently Swedish Minister of Defence, is a 57 year old politician, member of the Swedish Social Democratic Party. While visiting the Czech Republic he also traveled to Čáslav air force base to meet Swedish military experts and observe the Jas-Gripen fighters used by the Czech Air Force.