Challenge
The growth and success of Copenhagen Airport places a premium on surface management and the safety of increasing operations. Secondary Surveillance Radar (SSR) solutions for surface management lacked the comprehensive coverage and ability to track all aircraft and vehicles over Copenhagen's airport surface zones.
Copenhagen needed to achieve a single-view of aircraft and vehicle movement which to put it simply could no longer be supplied effectively or economically by traditional radar solutions. Copenhagen began researching the proven benefits of a multi-sensor approach to surveillance with an Advanced Surface Movement Guidance and Control System (A-SMGCS) which integrated multilateration and ADS-B surveillance with existing radar data sources.
Solution
NAVIAIR, the Danish Air Navigation Service Provider, required improved airport surface surveillance in order to maintain a high level of safety for airport operations during adverse weather conditions and to reduce the risk of runway incursion. NAVIAIR also required a single-view of aircraft and vehicle movements over the complete surface coverage.
In 2003, after an international competition, Copenhagen awarded the program to HITT as the prime contractor for the A-SMGCS integrating MSS with the ERA network of sensors and SQUID vehicle tracking units. To meet the challenge and solve NAVIAIR's problems, HITT developed and delivered an A-SMGCS system compliant with EUROCONTROL and ICAO requirements. HITT 's solution comprised two Terma X-band Scanter Surface Movement Radars (SMR), an ERA MLAT system, and an HITT A-SMGCS processing and display system.
The system supplied by HITT and ERA successfully completed full system acceptance testing in January 2005. HITT 's A-SMGCS solution fused the highly accurate positional data from ERA's ground-based stations (currently 23 stations) and vehicle tracking units (238 pieces in operation at present) with radar data in one consistent traffic presentation. The system underwent three rounds of extension by ERA single-handedly (finished in 2012 - 2013) and has been in successful operations ever since, as illustrated by the Danish Civil Aviation Authority's granting of authorization to the airport to use the A-SMGCS for air traffic control purposes.
Partner
Holland Institute of Traffic Technology (HITT ) is a leading provider of quality traffic management and surveillance systems. HITT develops technology to improve safety, security and efficiency at airports and in marine environments. HITT Traffic provides turn-key solutions for: Advanced Surface Movement Guidance and Control Systems (A-SMGCS), Vessel Traffic Services (VTS), Platform Protection and Coastal Surveillance Systems (CSS).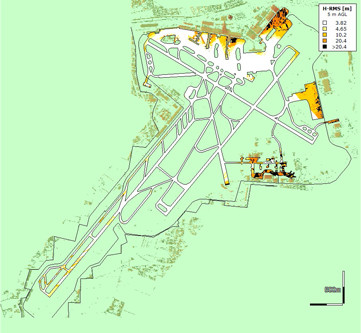 The multilateration performance with accuracy expressed by the coloured contours in meters. Accuracy is based on theoretical model and is affected by terrain data.
"Copenhagen Airport is using SQUID beacons and we are very satisfied with the operational ATC performance of these ADS-B transmitters and further report them as being a reliable product under all weather conditions. Copenhagen Airport uses the SQUID beacons in our ASMGCS systems and is very happy with the performance and accuracy that the SQUID S provide."