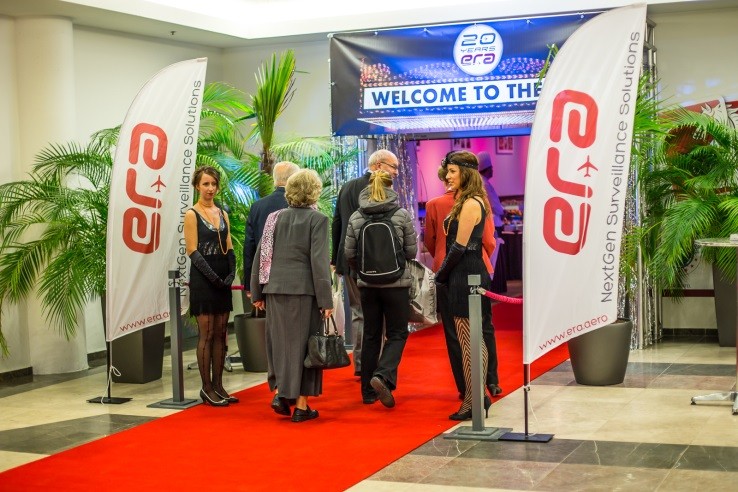 ERA celebrated the 20th anniversary of founding of the company
Pardubice December 12th, 2014ERA, pioneer of surveillance and flight tracking solutions for the air traffic management and military operations, celebrated the 20th year of its existence this fall.
ERA's unrivalled technological history dates back to 1963, when the first radiolocation engineers began developing passive surveillance systems for company Tesla in the Czech Republic. The founders established their own company, ERA, in 1994 to manufacture and supply Czech Army, ATC authorities and other customers with professional electronic equipment, specifically using passive radiolocation techniques. ERA within its history reached many technological and business milestones which can proudly be called Firsts and Bests:
- The world's first MLAT system for military purposes for the Czech Armed Forces (1963).
- The world's unique and no. 1 PET (Passive ESM Tracker) VERA (in use since 1995).
- The world's first complete country WAM coverage – the Czech Republic (2003-2011).
- The world's largest WAM nationwide coverage in Namibia (2009).
- The world's first implementation of PET and PCL systems - demonstrator Silent Guard (2013).
On November 4th, 1994 ERA was founded as Joint Stock Company and hence celebrated 20th birthday last month. The management decided to organize two separate events on the occasion of the 20th anniversary of ERA Company founding.
The first "birthday party" was held on-board the retro steamer SUMAVA operated by Prague Steamboat Company sailing on Moldau river in Prague downtown. The guests, mostly business partners and members of broaden ERA community, enjoyed the night cruise, "floating" casino games, fireworks and other parts of the celebratory gathering programme.
Three weeks later all ERA current and some retired employees were invited to ball which took place in congress centre of AFI Palace in ERA hometown Pardubice. The celebration was called Welcome to 20´s and based on style of second decade of the 20th century evoking the Al Capone mafia era in Chicago. Among entertaining activities of the event, cheered by party partakers, were several contests such as laser gun shooting, car races, roulette and poker. The couples and group of friends could have photos taken in their retro costumes in the improvised studio. The live music full of thus period jazz and dixieland hits performed by Party Band put almost everyone in dance.